Technical Specifications on Our Shutters
As manufacturers and designers of custom shutters, we have fine tuned our wood shutters to the highest, unmatched level possible. Long term ware and durability is one of our most important factors. Technical details of our shutters can prove longevity of our product. Due to the materials used and the workmanship of our shutters, you can be confident that we plan to be here for a very long time.
Louver
Using bass wood, our louvers are available in 2.5″, 3.5″ and 4.5″ inch sizes.
2.5″ Louver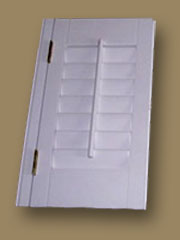 3.5″ Louver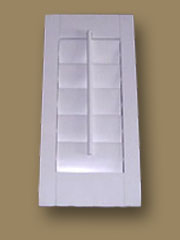 4.5″ Louver
Wood
Kiln dried bass and poplar.
Panels
Individual panels are assembled of components which prevent light from coming through when closed, and each shutter includes tension adjusters, mortised hinges, and radius hinges to assure ease and accuracy while opening and closing. We use wood dowels to assemble our shutter panels to insure life long durability. Similarly, our interlocking "rabidded panels" block out the light and create a stronger shutter.
Tilt Rod
Poplar wood is used for the adjustment rod.
Paint
Lacquer under coat and lacquer top coat paint is used to provide easy to clean and beautifully finished shutters.
Hinges
Employ full-size hinges that make the shutters stronger and much more resilient.